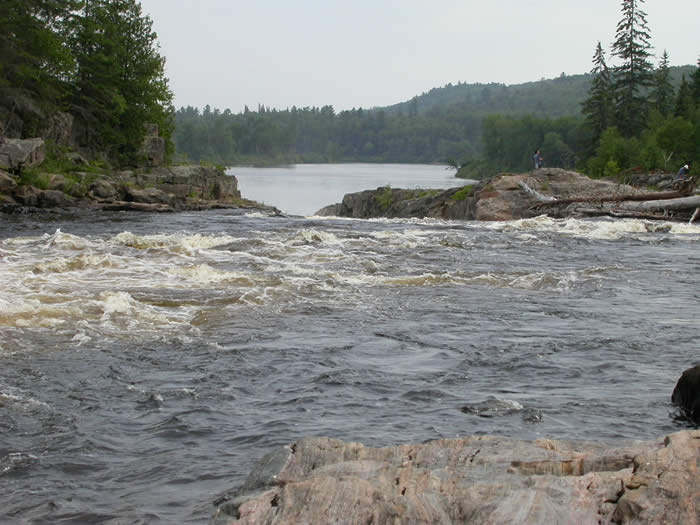 Coulonge River - 7 days
The Coulonge River is a predominantly wilderness river in Western Quebec, Canada. It is 270 km long and runs in a South Eastern direction from its headwaters at Lac au Barrage in La Verendrye Wildlife Reserve to the Ottawa River at Fort Coulonge, Quebec.
The Coulonge has had a rich history. This River was used as a waterway by native North Americans and, later in the fur trade by the Courier de Bois. Scottish born lumber baron George Bryson acquired the timber rights to thousands of acres of forests surrounding the area. For almost 150 years the forests around the Coulonge were logged throughout the winter until early spring breakup. This permitted massive log drives fueling the Ottawa Valley economy. The last spring log drive in Canada took place on the Coulonge River in 1984.
Trip Itinerary
We will paddle the lower Coulonge River From Bryson Lake to Fort Coulonge above the Grande Chute for a total of 145 km. The trip starts at the golf course in Fort Coulonge where we will meet. Parking here is secure and there is a small fee to park for the duration of the trip.
Day One : We will be shuttled up to Bryson Lake, our put in and lunch spot on day 1, which is a 3 hr drive on logging roads. From this point we will paddle up Bryson Lake approximately 18 km. We will make our first camp on an on an island at the top of the lake.
Day Two: From the camp we will paddle through a picturesque marsh area and then make our first 150 m portage to below the dam and into a creek which runs out to the Coulonge River proper. This creek is a good place for wildlife viewing if you are quiet. I have turned a bend and had a bear swimming the creek just feet in front of me! Once on the river we will go over any necessary whitewater skills that you might want to brush up on or learn new techniques. Our goal is to lunch at the confluence of the Corneille and Coulonge Rivers. The river is quite tame in this particular section allowing you a chance to warm up on swifts and Class 1 rapids all the way down to the second camp at the powerful Rapides Gauthier .
Day Three: You will encounter several beautiful waterfalls and chutes that provide for excellent photography. Some can be lined, or sections can be run with careful scouting. We will experience several Class 1, 2 and 3 rapids with fast down river gradient taking you along quite quickly before the river changes pace to a meandering oxbow for a while. On day 3 we will camp at the Chute du Diable which has excellent swimming below and a magnificent view from the camp.
Day Four: Scenery and a few interesting rapids mark this days travel. Day 4 camp is at Rapides Enrages with a sandy oasis on the opposite shore along with a cold drink of spring fed water after the portage into camp.
Day Five: Below Rapides Enrages is a great play spot to further improve your boating skills or just pick up new paddling tips from us. We will start the day by passing on our moving water knowledge and coaching you along to new levels. Not far down river is Chutes Gallinotes which can be run between the two sets of magnificent falls. Below the falls it offers a majestic rock plate for lunch and a swim. This section of the river continues on with challenging Class 2 and 3 rapids before getting into our Day 5 camp at Chute a L'ours'. The camp is located near a historic pointer boat surrounded by towering white pines. Parts of the chute can be run or lined depending on your skill level.
Day Six: The pace of the trip will determine the last nights camp. Rapides Guenette is a challenging 1,000 metre rapid which needs accurate boating skills, and careful maneuvering. We normally run, but some may choose to line or walk the more difficult sections. We can be persuaded to run your boats down if you choose.
Day Seven: The river is now noticeably gaining momentum toward the Grande Chute which is evident by how fast the current carries you downstream. This is a day of fun with continuous Class 1 and swifts all the way to the take out at the Fort Coulonge Golf Course where we end the trip.
Cost: $1,100 plus taxes