Peterbell to Mattice – 10 days
Dates: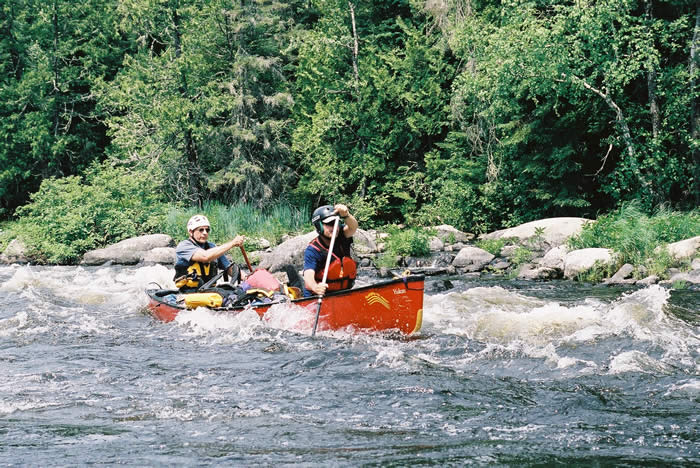 This is the first stage of a 22 day Missinaibi River trip from Peterbell to Moosonee. Stage two, Mattice to Moosonee, follows this trip. You may wish to consider undertaking the complete trip, or just one section of it.
The Missinaibi River is the longest protected, unimpeded wilderness waterway in Northeastern Ontario. Historically, it was an important trade and comminications route, and continues as a lightly traveled recreational route. This is a remote and challenging section of the river that will not fail to work its spell on you.
Our 10 day trip will start with an evening train ride from Foleyet to the Missinaibi River at Peterbell Station. We will spend the next nine days leisurely exploring 170 kms of the river and Canadian Shield wilderness. The pace will allow us plenty of time to play and fish in its waters, and just plain enjoy the magnificent scenery and wildlife of this wilderness gem. This is the first part of a longer trip, that will continue on from Mattice to Moosonee.

For the novice tripper / paddler, there will be ample time to learn and practise skills under expert instruction. Our group size will be small.
We will meet on the morning of the first day in Cochrane, located on Highway 11. After completeing the fitting and loading of the canoeing gear we will leave our vehicles in a secure place and be shuttled to Foleyet to board the train that evening. Those not continuing on the river beyond Mattice will be shuttled from Mattice back to their vehicles in Cochrane.

Cost includes all canoes and paddling equipment, shuttles, train fare, Provincial Park fees, group kitchen equipment and home cooked meals on the river.
Cost: $1,800 plus taxes